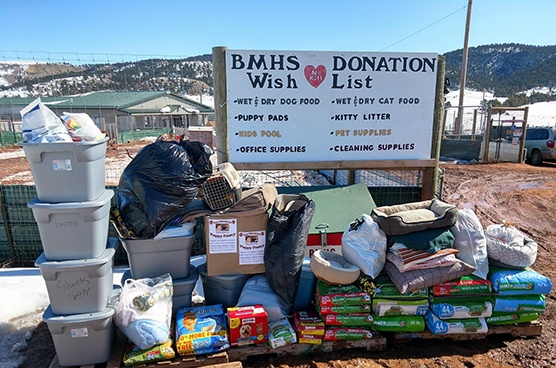 Thank You for Your Support
We are in great need of assistance with Dog and Cat Food, Treats, Wee Wee Pads, and Cat Litter. We go through 100 pounds of dog food day, and 30 pounds of cat food a day.  A 55 pound bag of dog food costs about $25.00, a bag of cat food costs about $15.00, cat litter cost $10.00, treats cost from $5.00 to $20.00, and wee wee pads cost $15.00. 
We  greatly appreciate any donation to help us with the cost of dog and cat guests while they wait for a new family. You can swing by our shelter to drop off donations of pet food, checks and supplies.
We appreciate any amount to to help us keep our No Kill Rescue Shelter going. Please click on the Donate Button to Make a Donation to Help Battle Mountain Humane Society. All Donations are a Tax Write Off and BMHS runs 100% on Donations. We are a 501(c)3 Non Profit, if you need our tax ID number please let us know and we would be happy to send it to you.
Thank you for your support.
Other Ways You Can Donate
Donate your Lynn's Dakotamart Receipts. For every $10,000.00 we get $100.00